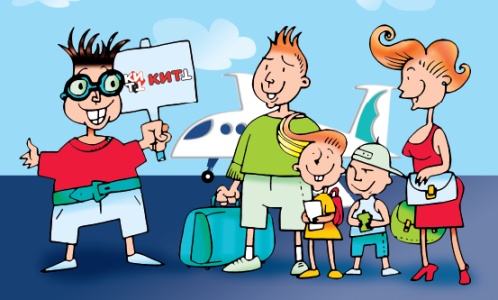 A dozen of things that every tourist should know


Prologue. The Representative

From his permanent contacts with tourists the Representative has reached Enlightenment a long time ago, so do not hesitate to call him on his mobile from 10 p.m. trough 8 a.m. Also fear nothing to turn up always late on the meetings; to carefully inquire about the details of an excursion that you are interested in, despite the fact that he had already told you about it several times. In this case it is always interesting to see whether the Representative will make it to the next hotel or not.
To the quite energetic tourists we strongly recommend that they test the Representative's cognition of mind-Aikido — make him change your hotel or your room number, or even both, at least a couple of times. The real Representative will make his best to fulfil all your conceivable desires with uttermost pleasure.
This good and competent person is always ready to answer any of your questions in greatest detail, especially those whose answers you can read by yourself in the following chapters. That's why keep asking your questions relentlessly!
Chapter I. Time

Calculating the local time is a piece of cake — ask Greenwich what time it is and add two hours to the answer. (GMT+2)
A fact worth considering: the departure time from Bulgaria that is written on your flight ticket oddly enough is Bulgarian!
Chapter II. Money

Sadly enough you cannot do without them at this place either. Here, in Bulgaria, vigorously awaiting its close (though unclear) future transition to euro (lacking any other proposals) the traditional monetary unit «lev» (plural — «leva») is living in its last days. One lev is made up of 100 «stotinki» (These are the Bulgarian coins; singular — «stotinka».). The following coins are available: 1,2,5,10,20,50 stotinki and 1 lev. More interesting however are the paper money. The following notes in circulation are available: 1, 2, 5,10, 20, 50, 100 leva.
Chapter III. Money again

You can exchange money at the hotel, at a change bureau or at the bank. There are hotels in which the change bureau works 24/7 (ask the Representative for such hotels). You won't need a passport in order to exchange money. Stay alert — some exchange bureaux are still trying to rip off the gullible tourist. That's why don't be shy to scrutinise the board with the announced change rates on it. Also bear in mind that according to the law, it is only after you sign the issued document with the received from you amount of leva, when the deal becomes valid. Ask the Representative for change bureaux where you can exchange money at favourable rates.
Last but not least — never change money on the street, you'll be robbed off in the most impertinent way for certain. Thus you'll have to either forget right away what have happened or sink in sorrow till the end of your holiday.
Chapter IV. Reception

This important word stands for the place in the hotel hall where a young thoughtful and kind lady sits and where you should register. Most often than not the girl speaks several languages — all at a different level of fluency. On one of them she will introduce you to the services that are offered in the hotel, as well as to the working hours of the bar and the restaurant. Finally she will call you a cab and tell you the forecast for tomorrow.
Your holiday starts with checking-in at the Reception and ends up there again when you receive your address registration card (foreigners are required to have a receipt from the hotel they have stayed in during their trip). In order to remind of yourself between these two crucial moments we recommend that you show up occasionally to leave or get your key, as well as to make quarrels from time do time, or simply to distract the young lady (see above) aimlessly chatting with her.
Daily errands (laundry, ironing) — you can not escape from them even on your holiday. The reception can be helpful in this case — inquire about the cost of laundry and dry-cleaning and loan an iron!
Chapter V. Safe

As evident from the word itself, safe is meant to keep your documents, money and other personal values safe, away from thieves' hands. Any decent hotel offers individual safe for rent. At the reception (see chapter IV) you'll be told the conditions for rent. Accept them right away and go relaxing!
Chapter VI. Medical services, or how does the insurance work.

In case of insurance occurrence you must call the number given in you insurance policy (If the call is international, you'll be given a receipt for it and the amount of the money paid shall be refunded to you by the Insurance company)
Within half an hour a doctor will come. Depending on the insurance company the visit will be paid or free of charge. If it is paid the doctor will issue you a refund certificate.
For further details read your insurance policy!
If necessary contact KITT's Representative who can help you in case of insurance occurrence!
Chapter VII. In case of emergency

The important phone numbers in Bulgaria are the same all around the country:
Police — 166; Ambulance — 150; Road Assistance — 91146 or 146 if you call from a mobile phone.
Chapter VIII. Making your phone calls — where and how, and a little about mobile connectivity

You can call from the hotel, though this is the most expensive and at the same time unsafe, concerning confidentiality (your call might be overheard by the Bulgarian secret services) option. Another thing to do when you want to make a phone call is to go to the Post office and call from there. There are also street phones — all you need is a phonecard that is available at the reception of some hotels as well as in the local resort supermarkets.
The most favourable option, however, seems to be making phone calls through Internet. Recently in Bulgarian resorts a lot of places for making such calls appeared. And now about mobile connectivity — particularly for those who carry a mobile with them. To those who have paid for roaming — Lucky them! And to those with only a mobile we recommend that they buy a prepaid card package from one of the Bulgarian mobile operators and use it as they think best, e.g. regularly call the Representative.
Chapter IX. Souvenirs

Souvenirs in the tourist sense of this word are all those «handcrafted» items of disputable origin and unknown purpose that a tourist visiting country N can't wait to give as a gift to his visiting-nowhere relatives and friends. Frankly speaking, not all Bulgarian souvenirs are made in China. The genuine masterpieces made in Bulgaria really deserve your attention. Such precious souvenirs are the pottery crafts (unfortunately heavy and fragile — you cannot take many of them with you), copper works, different needlework with Bulgarian motifs on it, manually woven tablecloths, clothes and other textiles — beautifully embroidered with different kinds of patterns sometimes even resembling Indian colour combinations.
Typical for Bulgaria is the flask of rose essence (it's pretty cheap and can sometimes substitute the rose oil) and the flask of that popular genuine rose oil (rather expensive and goes along with a quality certificate). As a present you can also get a bottle of good local wine, honey, expensive brandy, rakiya (the hard liquor — Bulgaria's most strong national alcoholic spirit) or anisette. Another cute gift is presenting one of those nosy-hairy creatures called Kukeri. They are said to repel the bad spirits. You can buy them as a doll or as a mask.
Chapter X. On the safe side (thefts)

«Be careful, keep an eye on your stuff» — stick to this simple rule and no problems should arise.
Always close the balcony door when you are going out of your room (especially if you have already bought souvenirs).
As a whole, in Bulgaria, especially in the resorts the atmosphere is calm and relaxing. You can go for a walk at night, enjoy the scenic mountain landscape under the moon, go dancing in the discos and for some reason visit nightclubs and bars.
Chapter XI. Electricity (in short)
220 volt.
Chapter XII. Tipping

Tips usually vary from 5 up to 10 % of your bill. Most restaurants (it is written in the menu) automatically add a service charge (8 to 10 %). Of course this could not be a sufficient reason not to leave a small tip.
You can also leave a tip to the hotel porter or the housekeeper.
Epilogue

In the day of the departure, to the regret of many tourists who are leaving with the night flight, the room has to be vacated at noon (in other words at 12 a.m.). Do not be disappointed, though — some hotels at additional cost will let you stay in till around 6 p.m.
At the end of the day you will once again meet the ubiquitous Representative who will accompany you to the airport and wave you goodbye.